Variety Of Services For Your Septic System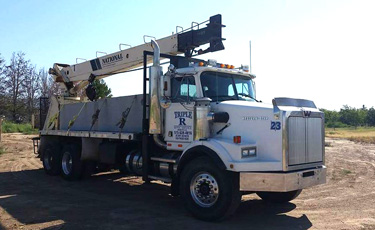 Triple R Septic Services in Mesquite provides a variety of services for your septic system.
Installation
If you're building a new home or business, we will install a new septic tank to accommodate plumbing needs for small, mid-size, and large homes alike, or businesses of any size. Using advanced excavation equipment, industrial grade pipes, and innovative tools, we'll install your septic tank, connect your plumbing's drainage system to it, ensure adequate water supply, and create protective barriers against leaks.
Repair
Triple R Septic Services also provides septic tank repair in New Mexico for homes and businesses. If you're experiencing a backup, continuous running of the pump, a strong odor, or your pump is not running at all, our plumbing experts will inspect your system and determine the type or repair needed. Give us a call and we'll come out to ensure your septic system is working safely and effectively.
Maintenance
Septic system maintenance includes yearly inspections, cleaning out debris and sludge, testing the water quality, and checking for adequate water supply and proper drainage. Triple R Septic Services can maintain any septic system for small homes and large businesses alike.
Septic Tank Pumping and Cleaning
If your septic tank has become clogged with debris a power outage during heavy rain storms has caused a water backup, our septic tank professionals in Mesquite provide pumping and cleaning services to keep things flowing smoothly and restore your system's function.
Sewer Connections
Whether your home or building is new or your sewer has been disconnected due while the building was not in use, Triple R Septic Services will connect your system to the nearest sewer quickly and efficiently.
Septic System Inspections
As part of septic system maintenance, we offer septic system inspections to check for repairs, maintenance services needed, and any potential problems that may arise. Our technicians will provide you with a complete inspection report and inform you on any next steps that may be necessary.